You may not know this, but the PDA Police has a number of undercover agents in the fair city of Melbourne. YES. It's true. Far more brazen than their Sydney counterparts, they not only get within ridiculously close proximity of the subjects, they take further measures to humiliate offenders.
Observe. The Hat.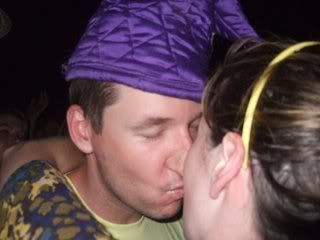 Notice the way they hover the hat overhead when they notice a potential PDA in progress...
Fine work. I thought for such a long time about what I could possibly write to go with this, but I'm really just so impressed I have nothing to say except - I love you guys. So much. Keep sending me pictures please.